Marketing English In Ireland
Marketing English in Ireland (MEI) is the leading and longest-serving association of English Language Schools in Ireland.
With origins dating back to the 1960s, quality and assurance have always been central to our mission. We represent English Language schools of all sizes, locations and varieties across the island of Ireland.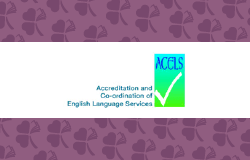 ACELS (Accreditation and Co-ordination of English Language Services)
ACELS is the quality assurance body for English Language Education in Ireland.
The Accreditation and Coordination of English Language Services (ACELS) is a legacy function of Quality and Qualifications Ireland (QQI). ACELS is currently the national body responsible for the development and management of an inspection/recognition scheme for English Language Education (ELE) providers nationally. All recognised providers are listed on the RECOGNISED PROVIDERS section of this website.
ACELS was established in 1969 under the auspices of the then Irish Department of Education and the aim was to manage and develop standards in ELE providers through an inspection/recognition scheme.